Fantastic five medal haul for Fusion Wales star Kieron Innes on day one in Liverpool
Jennifer Nesbitt
The 2023 Artistic British Championships got off to a sensational start in Liverpool this morning thanks to a five-medal haul for Fusion's Kieron Innes.
Kieron, competing in the Men's Disability Masters, bagged himself gold on parallel bars and rings, silver on the pommel horse and bronze on floor and on high bar. He only narrowly missed out on a full set, finishing fourth on vault.
His results on rings and floor matched his medal results at last year's competition.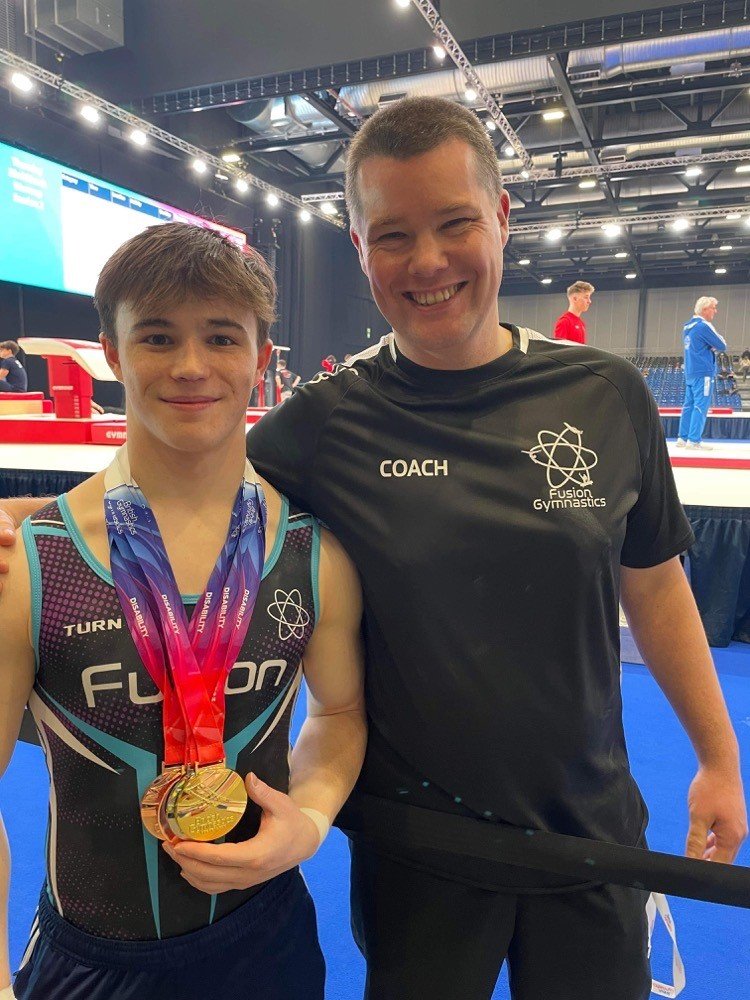 The Men's Disability Masters bring back together some of the top qualifying gymnasts from the most recent Disability British Championships, that were held last November in Cardiff, to compete for honours on each apparatus.
It was there at last year's Disability British that Kieron memorably secured himself gold on the floor, rings and parallel bars and silver in the all-around, along with vault, pommel horse and high bar.
The afternoon then saw the Men's Under 16 gymnasts take to the competition floor.
The standout Welsh performer was Valleys' Clint Alleyne who achieved a top 10 finish in the All-Around competition with an overall score of 67.950, with Fusion's Tamlin Fox (67.200) just behind him in 12th. Clint was also fourth on high bar with Tamlin seventh on pommel.
The pair came into the British having won Open All-Around silver and bronze respectively at the Welsh Championships less than a fortnight ago.
YMCA Barry's Dafydd Armstrong, who won Open silver and Closed gold on vault at the Welsh, also performed well on that apparatus here as he came in fifth. He was 32nd overall.