Memories made and history created by Welsh gymnasts at Czech Aerobic Open Championships
Jennifer Nesbitt
Gymnasts from Phoenix Dance & Gymnastics in Aberdare made memories to last a lifetime on what proved to be an historic weekend at the Czech Aerobic Open Championships 2023.
Phoenix DGC gymnasts travelled to Prague alongside the Southern Region Aerobic Squad where they took part in three days of fierce competition.
A quite memorable weekend capped with a sensational silver medal for Phoenix Age Group girls Lowan Davies, Alessia Polledri, Belle Davies, Lilly-May Lloyd and Holly Williams, who were joined by Ffon Llewellyn, Lila Harris and Olivia Lacey to perform their fun, exciting and entertaining Jumanji Aerodance.
The group of eight girls made history as the first Age Group Aerodance to ever compete for Great Britain.
They gave and absolute showstopper performance against international class teams and only narrowly missed out on gold by a mere 0.1.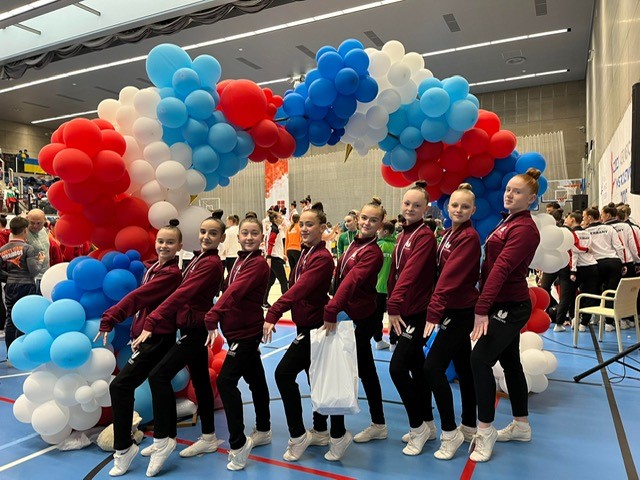 Head coach Laura Morgan said she could not have asked for more of the girls on the day and was immensely proud of the performance they gave – and their attitude to the whole experience which, she said, was touching to witness.
It was a fantastic weekend from start to finish for our Welsh gymnasts.
Phoenix's two little foundation gymnasts, who are just eight years old, competed for the first time out of age category with National Development gymnasts.
The competition was strong and the category lasted the full day.
Megan Lilly Harrison was up first in the morning with her Labyrinth inspired routine as the first gymnast on for GBR she had a long wait ahead for the rest of her category. Megan performed a fun and bubbly routine ultimately placing 64th.
Next up in the afternoon was Esther-Rose Jones, who performed a beautiful routine to her music from Sound of Music finishing in 39th place.
It was an incredible achievement for both girls considering both were competing against gymnasts three years older.
The Age Group gymnasts then began their competition in the Trio category.
Isobelle Davies, Lowan Davies and Alessia Polledri performed well to their Lord of the Rings music but a few mistakes took them out of the finals. The girls were then joined by team-mates Lillie-May Lloyd and Seren Thomas for their Sherlock Holmes inspired group, an entertaining routine placing them well in the rankings.
Southern Region (Sparkles Gymnastics Club) senior gymnast and Phoenix DGC coach Emily James performed a strong and elegant individual routine awarding her a place as the only GBR senior woman in the finals on Sunday.
Emily gave another consistent routine in the finals to increase her rankings placing her well in the mix of world renowned names such as Ayse Begum Onbasi and Borislava Ivanova.
Emily was then joined by fellow Welsh gymnast Rosie Howells and Elena Hamblin to contend in the Senior Trio category. The three girls gave a beautiful performance to Hit the Road Jack before heading back to warm up to be joined by Niamh Keane and Xanthe Esselmont in the Senior Group category.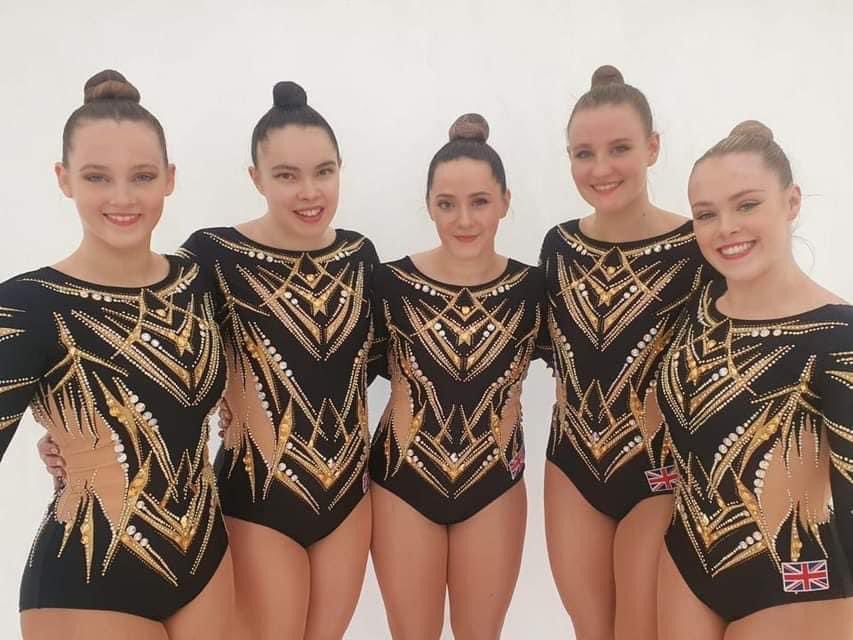 The group routine has been a cause for excitement within the aerobics community across Britain and Wales over the last few months and the five girls certainly did not disappoint, providing a breathtakingly memorable performance as strong Amazonian Women.
The girls' powerful performance made sure they did not look out of place sharing the stage with multiple World and European champions.
Reflecting on the weekend, Phoenix club secretary and trustee Claire James said: "To compete in their first international with such maturity and dedication at such a young age has made the experience even more important and special to these young gymnasts.
"Every one of them performed like they had done it a hundred times.
"I am immensely proud of the girls, the coaching team and our fundraisers who helped make this trip happen.
"I feel very privileged to have been able to be there and support them; thanks must also go to our gym mams and dads for all the support they give their gymnasts and our gym family."