Men's artistic gymnasts light up day two of Welsh Open Championships
Jennifer Nesbitt
Day two of the 2023 Welsh Open Championships was lit up by the men's artistic gymnasts – with Team Wales' Joe Cemlyn-Jones top of the bill at Sport Wales National Centre.
Cemlyn-Jones took some time out after his Commonwealth Games in Birmingham last summer were hampered by injury. But he continued his return to action in the Welsh capital and was among the medals once again at a venue he knows so well and has enjoyed plenty of success at previously.
He was runner-up in the Open men's competition, going 78.000 all-around to secure silver behind North Devon's Adam Tobin (82.650). Notts' Sam Mostowfi finished in the bronze medal position with a score of 77.100.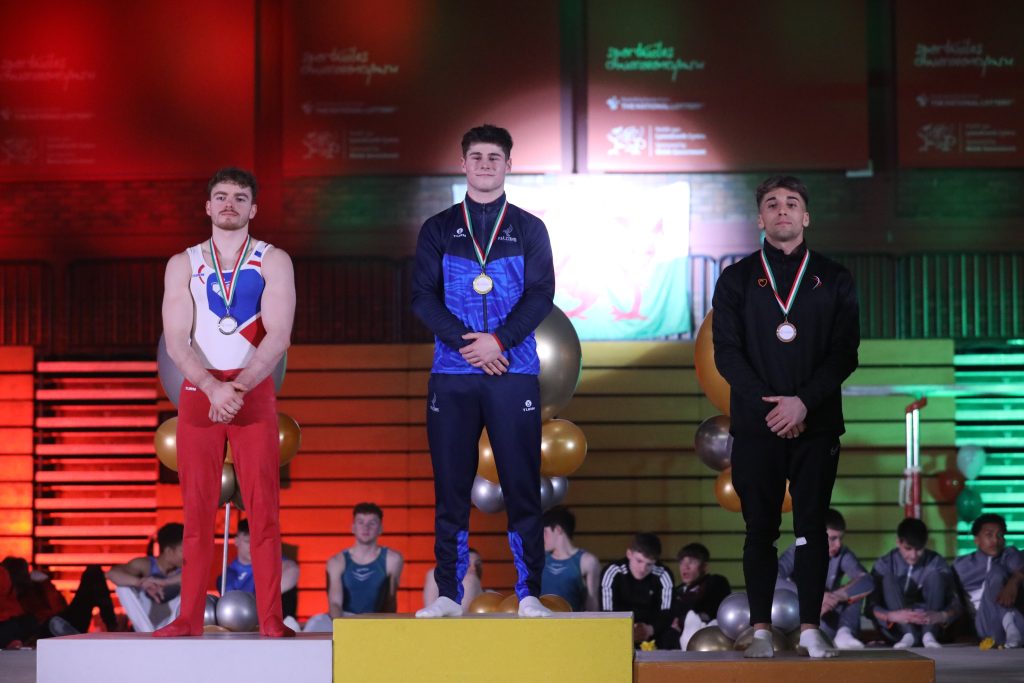 The City of Birmingham gymnast's performance also means he is the new Welsh men's senior Closed champion after finishing ahead of Theo-Amari Ochana and (72.950) and Henry Lewis (72.350).
Cemlyn-Jones added pommel horse, rings, and parallel bars silver along with high bar bronze in the Open competition.
Lewis bagged bronze on parallel bars. There were also excellent performances from Samuel Morgan (YMCA Barry) and Iwan Scrivens (Fusion).
Morgan won pommel silver and bronze on bars in the Closed competition, where Scrivens took silver on the floor.
Along with Tobin, a GBR men's team reserve for the Worlds in Liverpool last year, the men's Open competition also featured Hayden Skinner from South Essex and Joshua Nathan (City of Birmingham).
Nathan, who won the British men's all-around title in Cardiff in 2021, walked away with gold on high bar and pommel while Skinner secured silver on the floor.
Meanwhile in the U18 age group Alex Niscoveanu, who trains at South Essex, continued his rapid rise up through the age groups, as he walked away with Open and Closed all-around glory.
Niscoveanu led the way with 72.050 across his six pieces of apparatus.
In the Closed category, Harrison Harris (67.000) and Wil Wheeler (62.900) from Valleys Gymnastics Academy secured silver and bronze respectively while Fusion's Kieran Innes was fourth.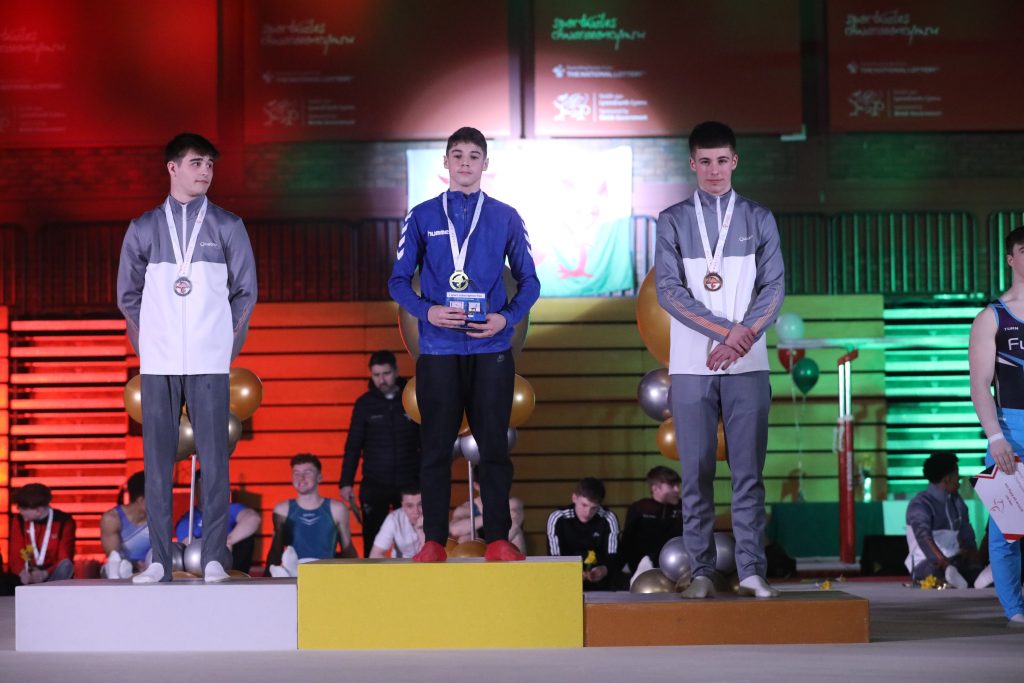 On the individual apparatus in the Open category, Niscoveanu added gold on parallel bars and the pommel horse as well as silver on the floor and high bar.
Harris took gold on high bar and on the rings and bronze on floor while there was Open bronze for Innes on rings and on parallel bars.
In the Closed section, Niscoveanu won gold on floor, pommel and parallel bars with Harris taking the honours on the rings and high bar.
VGA's Clint Alleyne (70.000) won all-around silver in the U16 Open with Fusion's Tamlin Fox (66.750) ending with Open bronze. The pair also finished first and second respectively in the Closed section.
Alleyne also grabbed Open gold on floor and on bars as well as silver on rings. Fox picked up Open silver on pommel along with bronze on floor, vault, and high bar.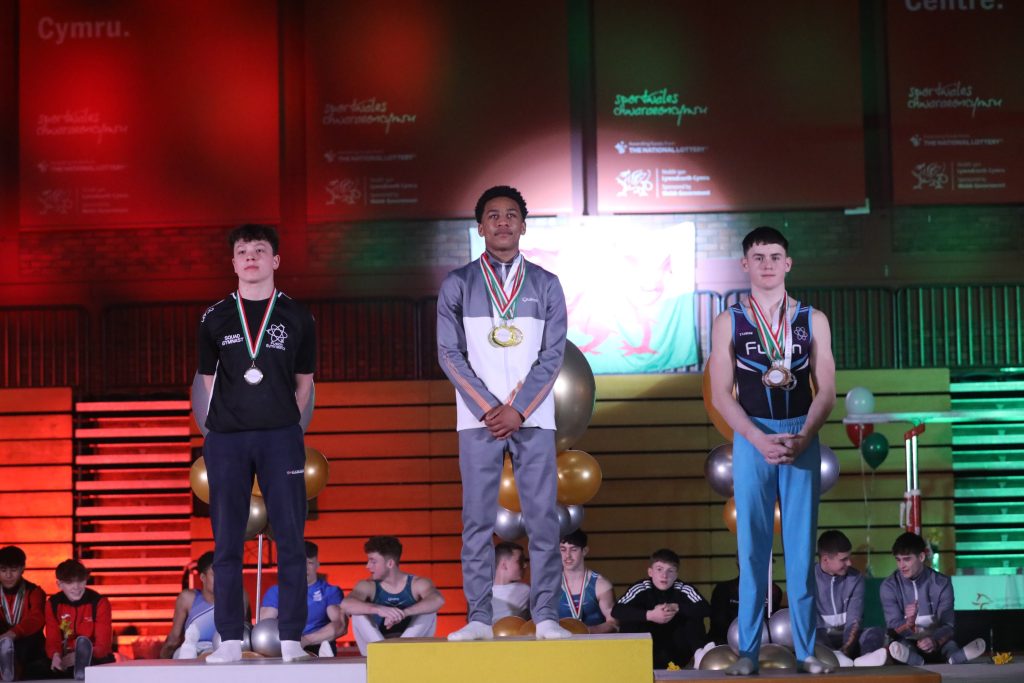 YMCA Barry's Dafydd Armstrong won Open silver on vault and bronze on parallel bars while Open silver on the high bar went to Zak Bisp from Fusion.
Ioan Thomas (Cardiff Central Youth Club), Maximus Thomas (Swansea) and Charlie Watkins (YMCA Barry) also competed well.
Watkins won Closed bronze on floor while there was vault and parallel bars Closed bronze respectively for Maximus and Ioan.
In the U14 competition, Sammy Cotter (Bury) and Ben Scourse (Valleys) were first and second in both the Open and Closed all-around, with Jedidiah Lewis (Colchester) securing bronze.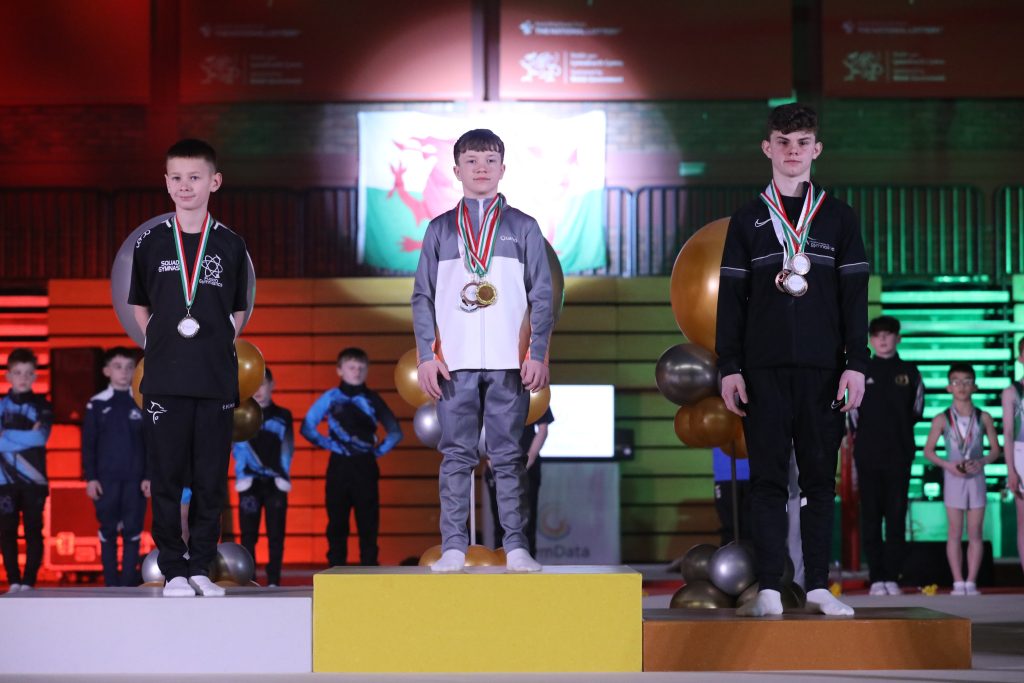 Congratulations also to Ewan Leask (Leeds), Logan Flynn (Hawth), Iolo Parry (Fusion Wales), Archie Weir (Olympus) and Jamie Barnes (Fusion Wales) for their performances.
Meanwhile there was a YMCA Barry one-two in the U12 Closed all-around with Reuben Burns just pipping clubmate Jamie Tran to gold. Bronze went to Alfie Morgan (Hawth) with YMCA Barry's Levi Scott just narrowly missing out on the medal places.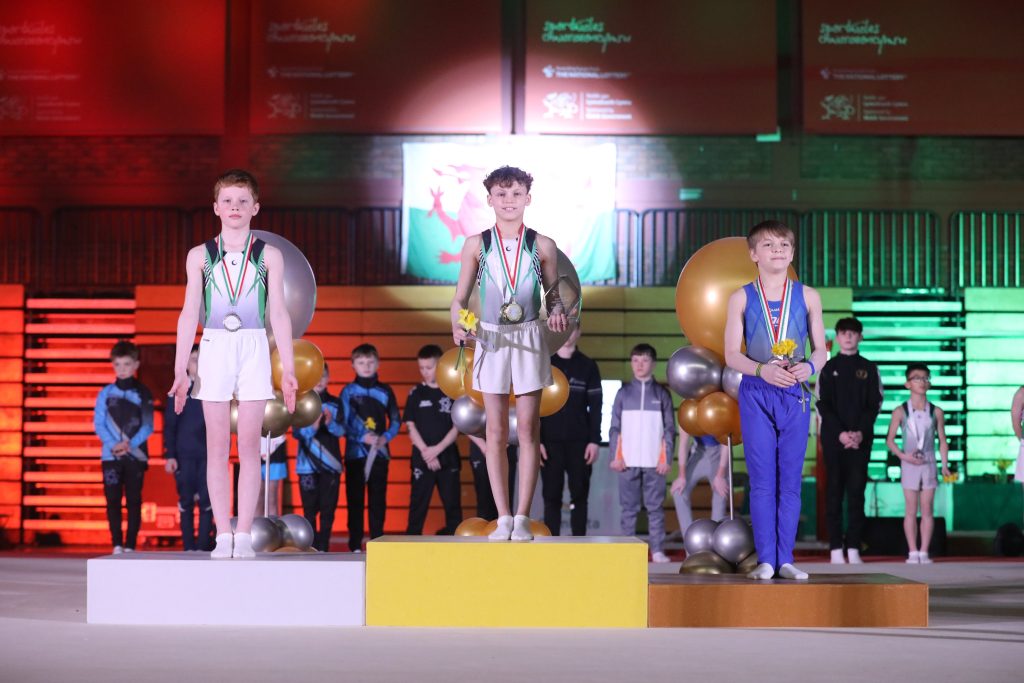 Well done also to Griffyn Porter (Fusion Wales), Rohan Sharma (Fusion Wales), Efan Oates (Fusion Wales), Jacob Lloyd (YMCA Barry), Toby Ashe (Bangor), Noah Lloyd (YMCA Barry) and Xavier Bevan Wardle (Fusion Wales) on their displays throughout.