Wales and Britain's best take centre stage in Cardiff
Jennifer Nesbitt
The best women's artistic gymnasts in Wales and Great Britain took centre stage in Cardiff today – with home favourites Poppy-Grace Stickler and Ruby Evans among the medals at the 2023 Welsh Open Artistic Championships.
Poppy bagged a brilliant bronze in the Senior Open all-around competition; she scored 51.700 across her four pieces. World and European silver medallist Georgia-Mae Fenton, from South Essex, was victorious with a score of 55.100, ahead of fellow Great Britain star Ondine Achampong (55.050).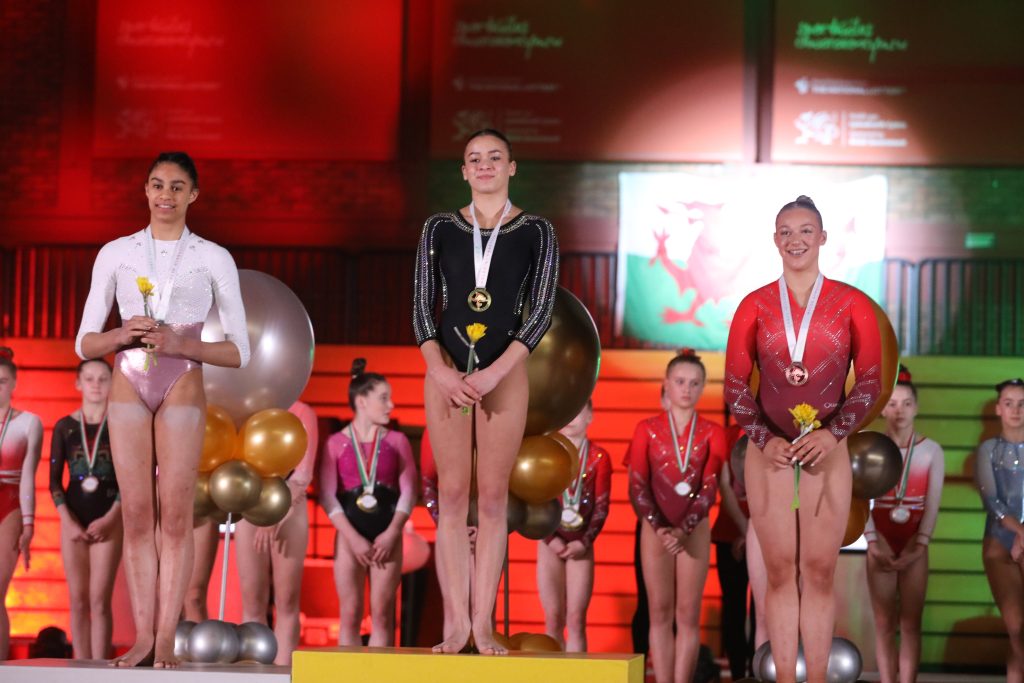 Ruby, competing at this event as a senior for the very first time, was fourth in the Open all-around competition with 51.650 but would not be denied as she took gold on both vault and floor, sharing the latter with Ondine.
Meanwhile on floor, Poppy took joint bronze along with Georgia-Mae.
This event also doubled up as a British senior women's selection trial event for the Artistic European Championships to held in Antalya, Turkey, next month.
Also on show today were Olympic team bronze medallist and former European individual floor champion Alice Kinsella, along with Jennifer Gadirova – another member of the successful Great Britain women's team at recent major championships – and two-time Olympian Becky Downie.
Becky, a former Commonwealth and double European champion on uneven bars, took the Welsh Open title on that apparatus as she battles to try and force her way back into British contention.
Ondine won on beam.
Meanwhile in the Welsh Senior Closed competition, Poppy won all-around, uneven bars and beam gold while Ruby took vault and floor honours.
A memorable day began this morning with the Aspire and Junior gymnasts wowing the packed crowd with their routines.
In the Junior section, Jemima Taylor capped a quite memorable week as she secured gold on beam, silver in the all-around and on uneven bars and bronze on floor in the Junior Open section. In Junior Closed competition, Jemima won all-around, beam and bars gold along with floor and vault silver.
Jemima's success comes following her selection to represent Great Britain at the upcoming Artistic Gymnastics Junior World Championships in Turkey. She turns 14 next week.
The Junior Open all-around was won by South Devon's Abigail Martin, with Clwb Cymru's Ffion Burgum securing bronze.
Ffion also took Open floor gold as well as Closed all-around silver, vault gold and bronze on beam and bars.
Ellie Lewis, the 2022 Welsh and British Aspire all-around champion, was third in the Closed all-around and secured silver on bars, beam and vault, sharing the latter with Jemima.
In the Aspire section, Clwb Cymru's Lexi Holmes was an all-around, vault and bars silver medallist in the Aspire Open competition, also bagging joint bronze on beam.
There was also a clean sweep for Lexi in the Aspire Closed section ahead of Bangor's Macaya Alsop.