Welsh Gymnastics unites with Home Nations to launch 'Leap Without Limits' – a new vision for a new era
Jennifer Nesbitt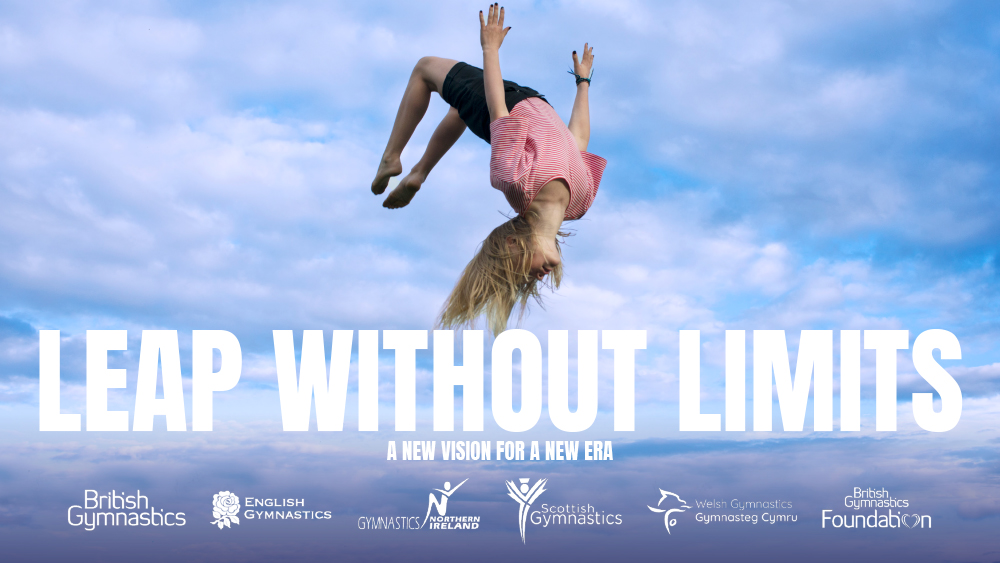 Welsh Gymnastics unites with Home Nations to launch 'Leap Without Limits' – a new vision for a new era
For the first time ever, gymnastics' national governing bodies across all four home nations have come together to create a new vision for a new era for gymnastics – that puts positive experiences at the heart of the sport.
Titled 'Leap Without Limits', the new vision sees Welsh Gymnastics, British Gymnastics, English Gymnastics, Gymnastics Northern Ireland and Scottish Gymnastics united in committing to a single clear goal – to deliver an uplifting gymnastics experience for all – with a shared purpose of together ensuring that gymnastics is safe, enjoyable, and open to everyone.
Shaped by input from the gymnastics community
The development of Leap Without Limits was shaped with input from people throughout the gymnastics community, including gymnasts past and present, parents, coaches, judges, volunteers, staff, and partner organisations across the UK, to understand what was important to them, what needs to change, what makes gymnastics special, and the role it could and should play in our society.
It's a vision that everyone involved in gymnastics is being asked to play a part in making a reality.
"A key moment for gymnastics"
Speaking about the launch of the new vision, Welsh Gymnastics CEO Victoria Ward said: "This is a key moment for gymnastics as we unite behind one vision for our sport across the UK.
"In the coming months we will be developing what the vision means for our new 10-year strategy in Wales – which will be focussed on people and places, underpinned by good practice.
"We will be setting ourselves some ambitious new targets, but we cannot achieve this alone.
"It will rely on the whole gymnastics community across Wales to turn our vision and strategic goals into reality to ensure that all gymnasts have a fun, safe and enjoyable environment and lifelong participation in sport.
"And that, in turn, will ensure that we really can Leap Without Limits."
A foundation sport that builds skills for life
At the heart of Leap Without Limits is an ambition to harness the power of gymnastics to change lives, enrich and connect communities, building on the aspiration and inspiration the sport provides. Importantly, it recognises the unique role gymnastics plays as a foundation sport in enabling the natural physical exploration, discovery and development of what our bodies can do, as well as how it builds skills such as resilience and determination, and creates positive experiences that can stay with you for life.
The new vision for the sport has been welcomed by Team Wales gold medallist at the Birmingham 2022 Commonwealth Games and leading Welsh gymnast Gemma Frizelle, who said: "Gymnastics has been brilliant for me and has given me far more than just scores and medals.
"It's a special sport that can open up so many opportunities, build skills for life and create lifelong friendships.
"It's great to see the whole sport in the UK uniting behind this new vision for putting the positive experiences – and the wider impact gymnastics can have – right at the heart of our sport.
"The more open and inclusive we can make gymnastics here in Wales and across the UK, the more people who will be able to experience the spirt in the way that I have – and that can only be a good thing."
Sandra White, Director & Head Coach at Swansea Gymnastics Centre, said: "For some of these children, gymnastics is the first sport they'll ever do.
"It provides a great link to physical literacy and improves skills such as resilience and determination and, hopefully, these positive experiences at a young age will encourage them to take part in sport and lead an active lifestyle."
Making the new vision for gymnastics a reality
Over the course of the coming months, Welsh Gymnastics will be developing and sharing plans as to what the new vision means for our members and our new 10-year strategy in Wales – which will be focussed on people and places, underpinned by good practice.
The new vision has been brought to life with a 'Leap Without Limits' emotive film featuring gymnasts, coaches and clubs from all home nations, together with a presentation and brochure that references the learnings of the past and how a brighter future for the sport can be created by everyone working together. Read the joint Home Nations statement.