Welsh Rhythmic gymnasts Elizabeth and Imogen among the medals on 50th anniversary celebration at British
Carl Field
Welsh Rhythmic gymnasts Elizabeth Popova and Imogen Coslett both picked up all-around medals on day one of the 2023 British Championships – in what is a milestone year for the discipline.
This weekend's Acrobatic, Aerobatic & Rhythmic British Championships in Telford is a special one in particular for both Acro and Rhythmic.
It coincides with a 50-year anniversary celebration since British Gymnastics – or BAGA as it was then known – formally introduced the two expressive and dynamic gymnastics disciplines to Great Britain, going on to set up the first technical committees for both Rhythmic Gymnastics and Sports Acrobatics.
And there was even more reason for celebration with Llanelli Rhythmic Academy's Elizabeth and Imogen both on the podium in the Senior and Under 12 competitions, respectively, with Imogen also medaling across all four apparatus for a five-medal haul.
For Welsh Senior champion Elizabeth, 16, this was her first Senior British, having missed out through injury last year in the build up to the Commonwealth Games – which she went to as part of Team Wales.
Elizabeth bagged bronze overall, scoring 103.950 across her four pieces which included 27.500 with the hoop, 27.700 with ball, 26.050 with clubs and 22.700 with the ribbon.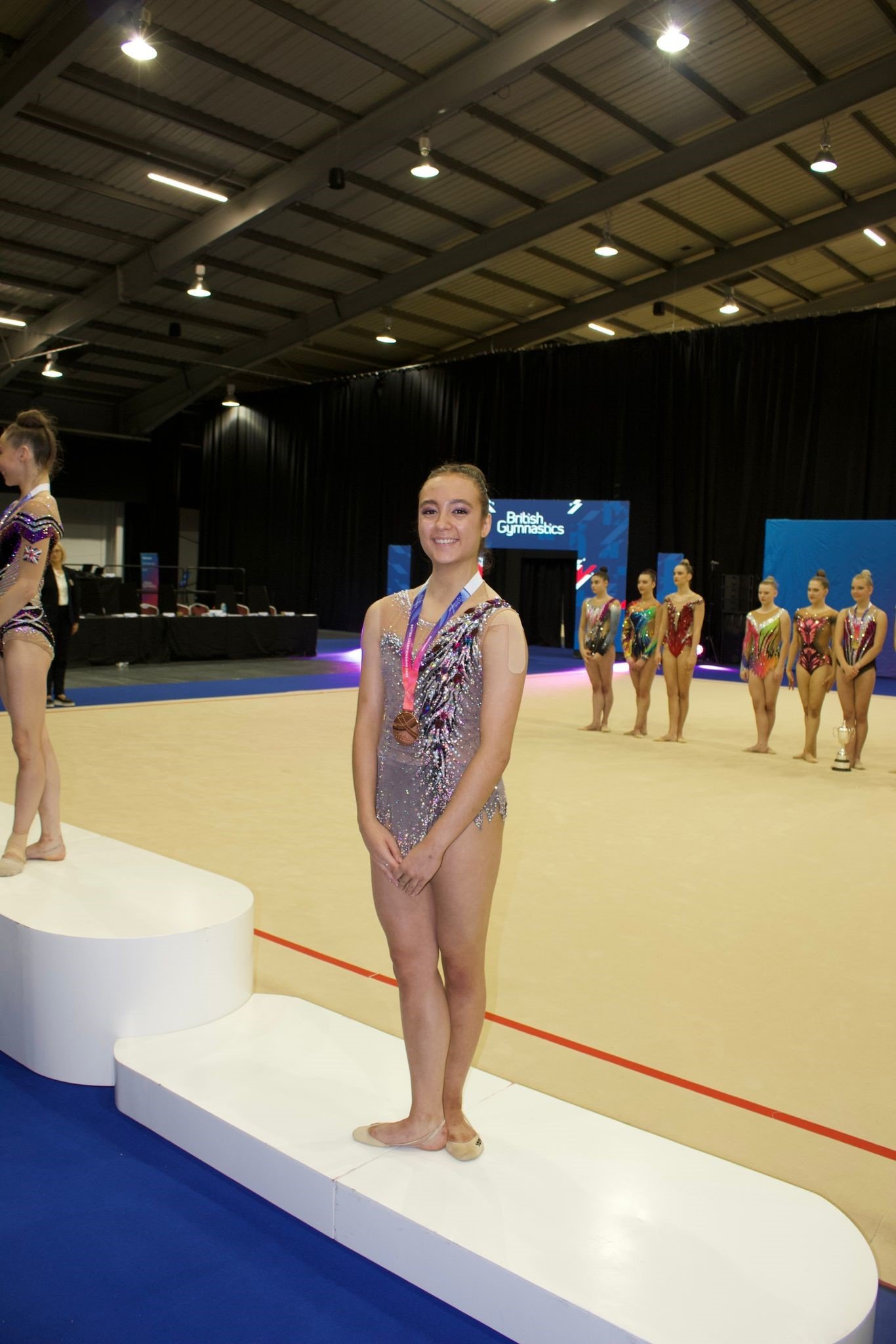 She will be back out on day two for all four apparatus finals while her clubs routine was the second highest score of the day on that piece.
Marfa Ekimova, the reigning champion from West London Gymnastics, retained her Senior British all-around title, ahead of Louise Christie from Beacon Rhythmic in Aberdeen.
Also returning for day two will be Llanelli Rhythmic's Mali-Fflur Lane, who qualified for the Junior clubs final in fifth, having finished eighth overall in the Junior all-around.
The day had started in stunning style with Imogen picking up bronze overall in the Under 12 competition (81.900), as well as silver for her free routine and bronze with ball, hoop and ribbon.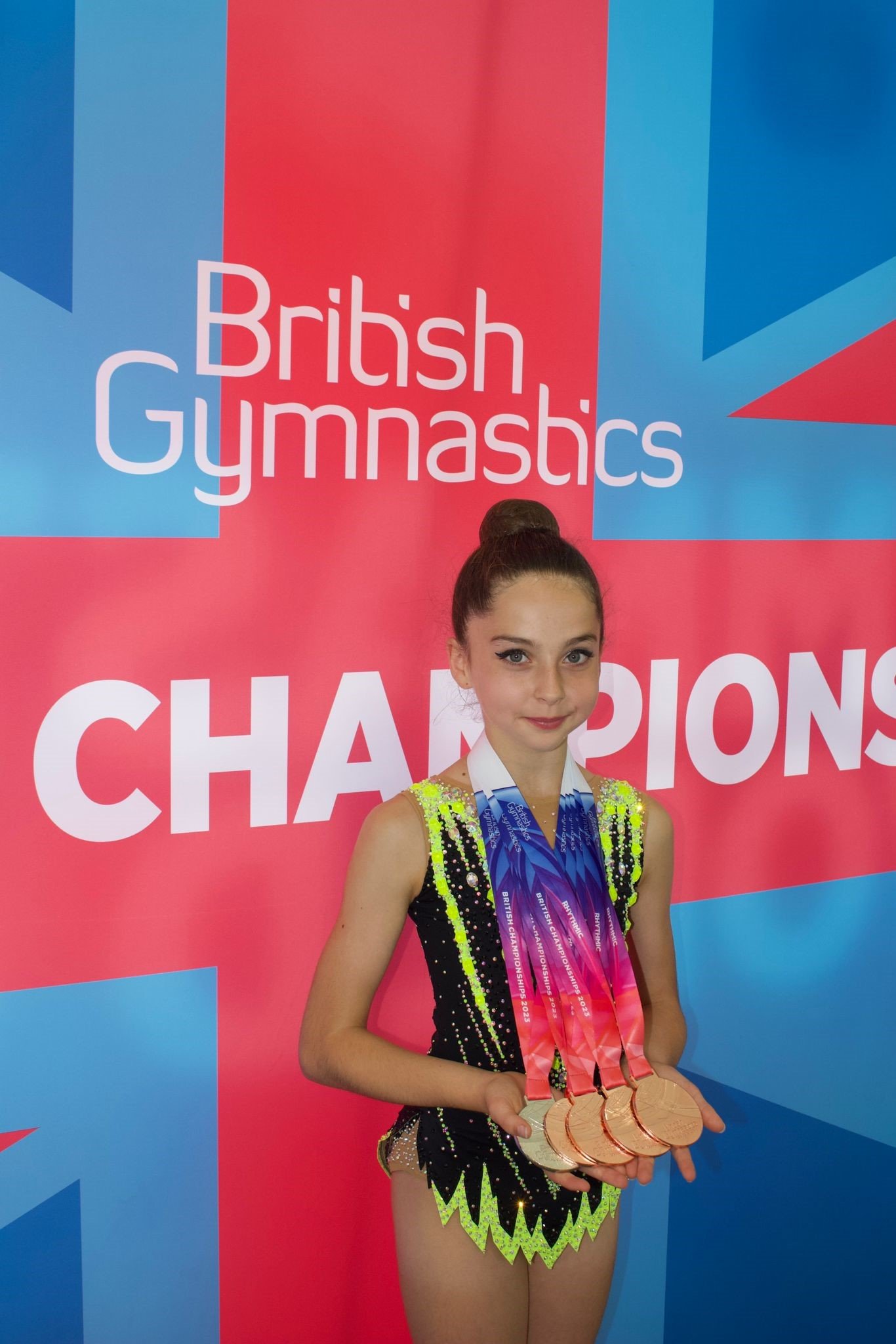 Imogen was one of three Welsh gymnasts in the top 10 overall with Poppy Driver (Evoke) seventh and Grace Woods (Llanelli Rhythmic) ninth.
Meanwhile Athena Chan, representing Llanelli but competing here as these British Championships as a guest and therefore unable to place, scored 79.850 all-around – the fourth highest overall score of the day in the Under 12 category.
Athena's free routine score of 20.950 would also have been a silver medal winning score on that piece, with Imogen scoring 20.850.
First up on day two the Under 10s will take centre stage, with Llanelli's Ella-Rose Thomas in action.
Those in attendance at Telford International Centre this weekend are able to enjoy an incredible celebration of spectacular gymnastics and witness the British Championships for three amazing disciplines together all at the same venue.
Taking place simultaneously in the very next hall six Welsh aerobic gymnasts from Phoenix Dance and Gymnastics in Aberdare were out on the competition floor throughout the day.
For Aerobic, the NAC Cup takes place over the same weekend.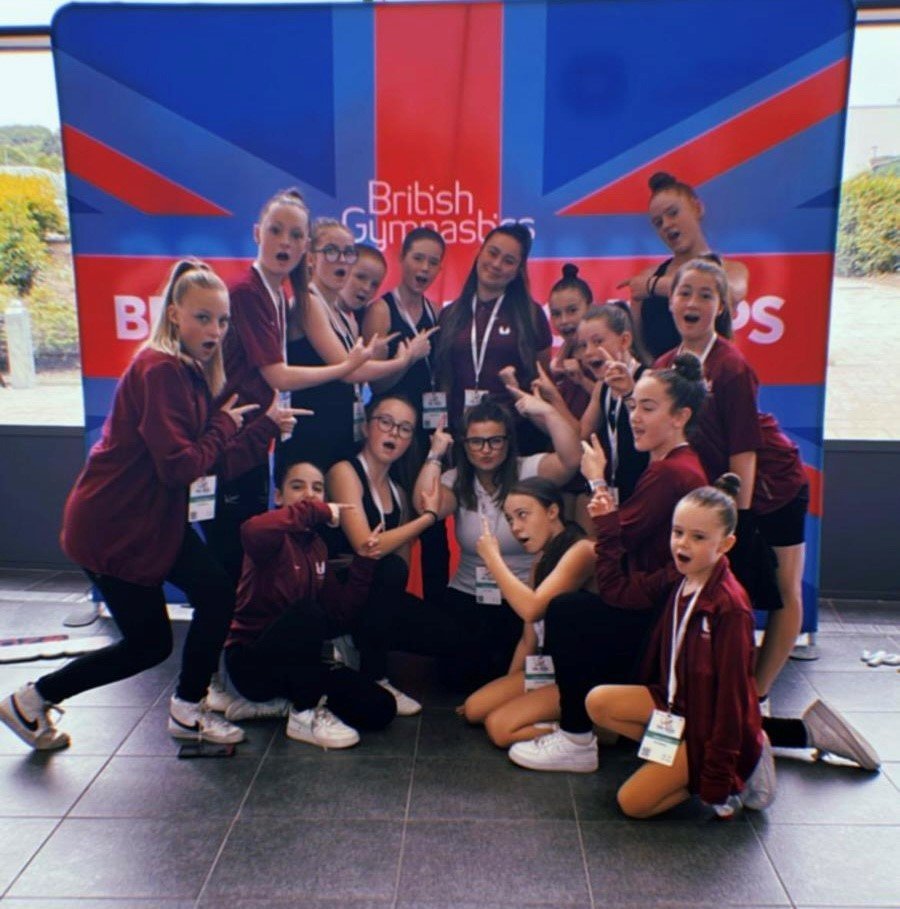 Dani Williams and Brianne Evans were competing in the NAC Individual (10-11yrs) Women category while in the NAC Junior Individual Women category, Abigail Carter placed in a fantastic fifth.
Kate Jones-Darch, Lowan Davies and Alessia Polledri, cheered on by a racous support, put plenty of energy into their routines in the FIG Individual Age Group Women category.
Kate, Lowan and Alessia will be among those back out on day two for more action across the NAC, FND and FIG categories with individual, trio and groups wowing the crowd with their breathtaking routines.