Welsh Tumbler and multiple major championship medallist Megan Surman announces retirement
Carl Field
Welsh Tumbler Megan Surman has announced her retirement from competitive gymnastics.
The 24-year-old, originally from Swansea, retires as a multiple major championship medallist.
Her incredible gymnastics journey began aged four at City of Swansea Gymnastics Club (now Swansea Gymnastics Centre) – and she continued with Women's Artistic until the age of 14 when she decided to switch disciplines to Tumbling.
It was a decision that would ultimately help catapult her on to the big stage competing for Great Britain but that success was reward for years of dedication and sacrifice.
That included six-hour rounds trips from Swansea to Andover in Hampshire to train, before a switch to the City of Birmingham club in 2016 which coincided with her starting university.
She would go to compete at two World Age Group competitions and was women's 17-21 World Age Group tumbling champion in 2018.
Senior success then followed.
Having been selected for the European Championships in 2020 – which were cancelled as a result of Covid-19 – Megan would make her senior major championship debut the following year and marked it in style by helping Great Britain's women tumblers to World Championship Team bronze in Baku, Azerbaijan.
She followed that up with Team silver and individual bronze at the 2022 European Championships in Rimini, Italy.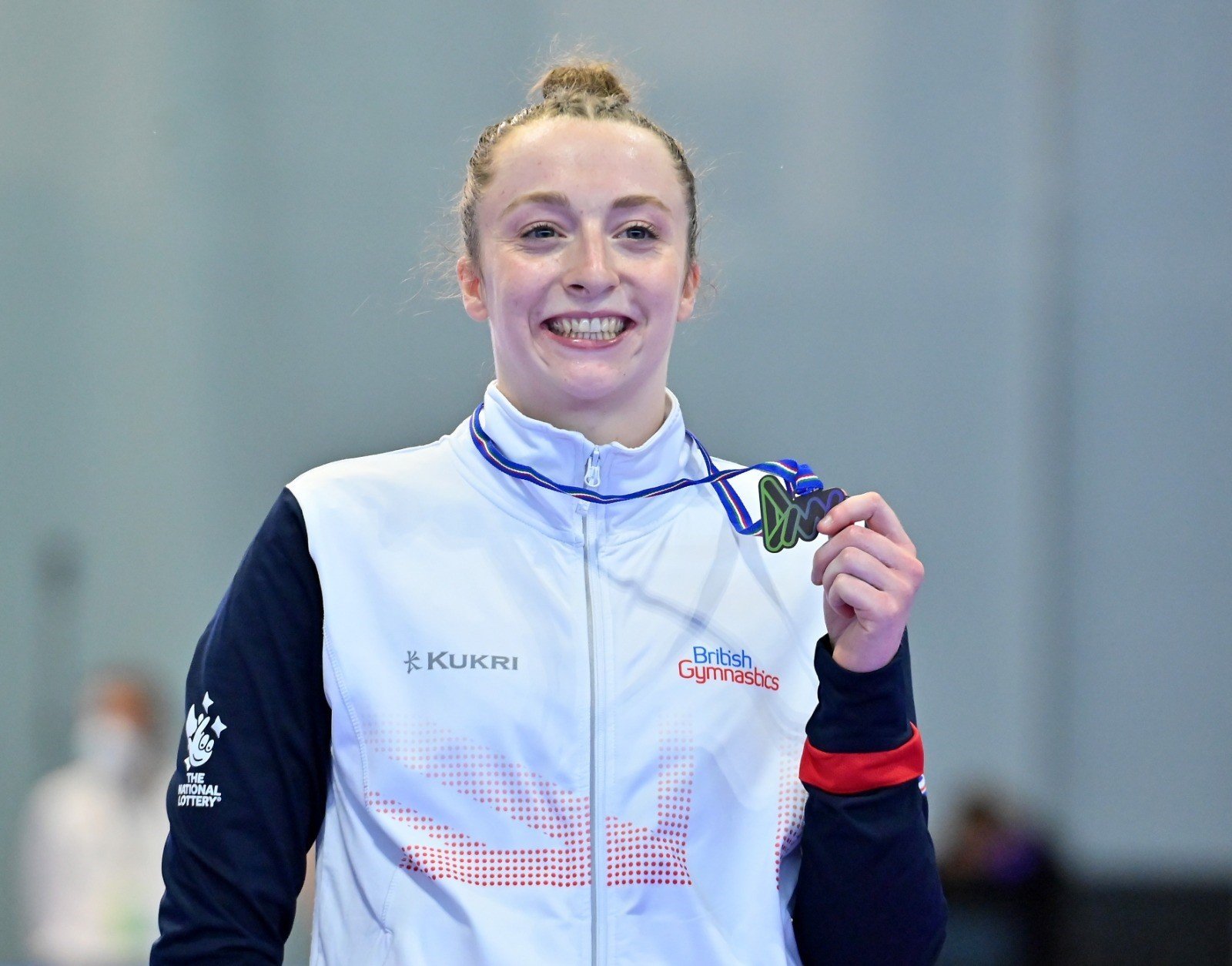 Megan was also reserve athlete for the 2022 World Games held in Alabama last year and a sensational year looked set for a fantastic finale when she was selected for a second World Championships in Bulgaria.
However a torn Achilles put her out of action and, having gone through injury rehab and with one eye on what is a home World Championships in Birmingham later this year, she has decided to call time on her elite career.
Speaking about her decision, Megan said: "After tearing my Achilles last year, I've had a lot of time to reflect on my gymnastics career to date and think about what the future holds outside of the sport.
"Ultimately, I decided that it was the right time for me to step away. I had been named in the senior women's team for the 2022 World Championships which would've been my second senior worlds.
"Obviously, I was extremely disappointed to have missed out on that competition and there was a part of me that wanted to come back to trial for the 2023 worlds taking place in Birmingham.
"Having trained at the City of Birmingham Gym Club since 2016, this would have been an amazing event to do in front of a home crowd.
"However, I've made the decision to 'hang up the leotards' as they say and continue to pursue my career off the Tumbling track where I'm currently Marketing Manager for a Food & Drink brand."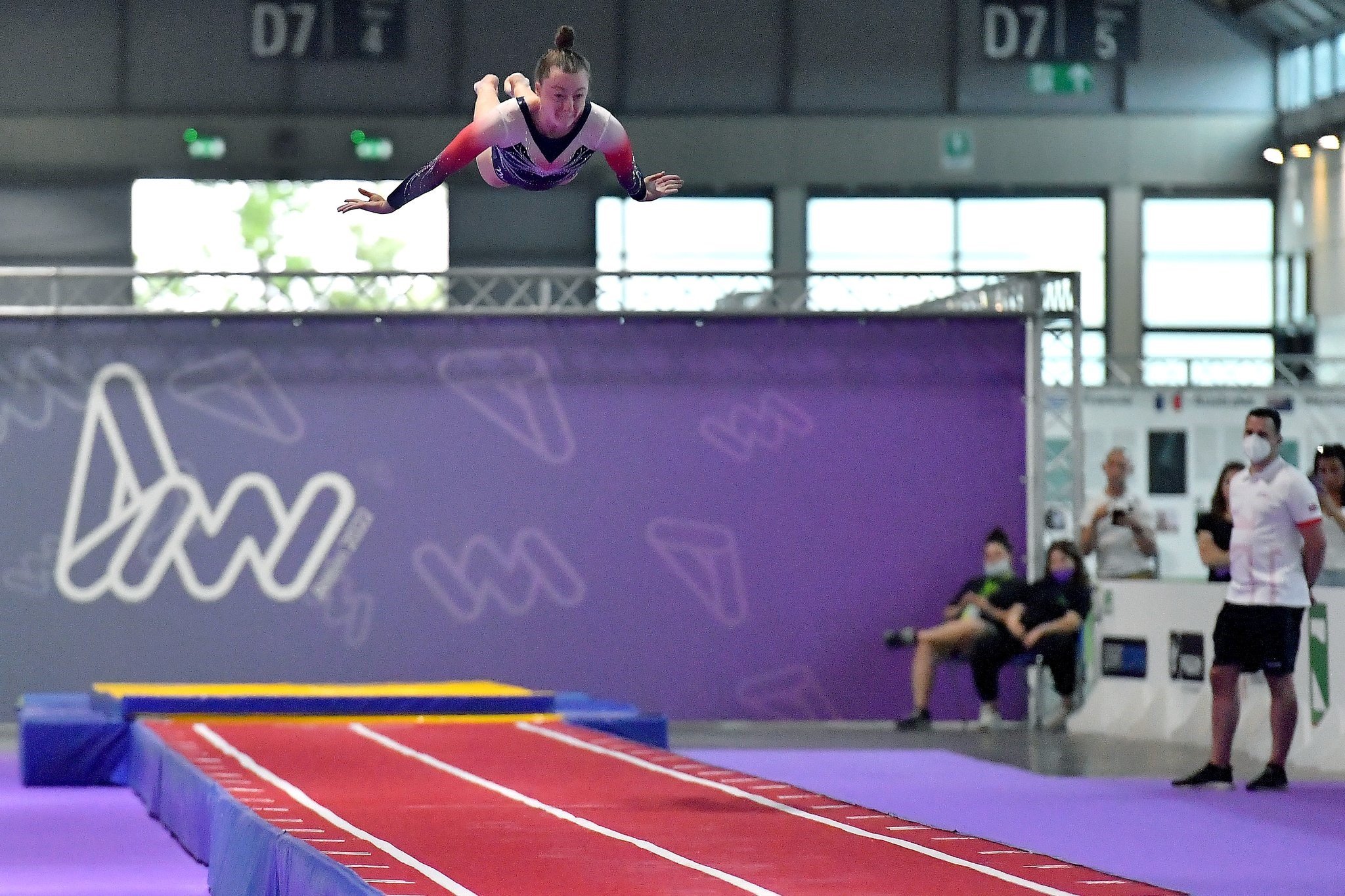 It was a journey for Megan that started some 20 years ago at her local gymnastics club in Swansea.
"I started in the recreational classes with my sister, where I was soon picked to join one of the artistic development squads at the club," she recalls.
"I continued at artistic at Swansea until I was 14, when I decided to join another friend who was trying out Tumbling at another local club. The club was fairly entry level in Tumbling, we didn't have a full-length track and I was too tall to use the fast track!
"Despite this I really enjoyed the challenge of learning a new discipline and understanding more about Tumbling.
"There were a few technique changes needed and a lot of new moves to learn, but the transfer between disciplines came fairly easy really.
"Having done artistic, I had the basic moves needed and found it easier to learn the new moves and sequences.
"As I began to progress in the sport I joined my teammate at the time, Jac Perry – who represented Great Britain at the 2014 World Age Group Championships – and began training at Andover Gym Club a couple of times a week.
"This involved a six-hour round trip from Swansea to Andover, but it allowed us to have access to much better facilities and train under their coaches as well.
"In 2015/2016 I was then selected into the Great Britain development squad and I was also selected to represent Britian at The Loule Cup in Portugal.
"When I started at The University of Warwick studying BSc Management in 2016, I began training at the City of Birmingham Gym Club under head coach Chris Porter.
"This was the pivotal moment for me and was where I really began to progress as a gymnast. Since training in Birmingham I then went onto be named to the GBR National Squad and had multiple major international selections."
So, looking back at her career, what is Megan's highlight?
"I'd say I have two main highlights, one as a junior and one as a senior," she continued.
"Of course, becoming the 17-21 Women's World Age Group Champion in 2018 was amazing and unexpected given it was my first major international as a junior – but I think the highlight from my junior career is actually my silver medal from the 2019 World Age Group Championships in Tokyo.
"After 2018 I put quite a lot of pressure on myself to perform well and to prove that the gold medal wasn't a 'fluke'.
"This led to me making a lot of mistakes and not performing to the level I wanted to during the 2019 domestic competition season.
"After a rocky year, I was named to the 2019 World Age Group team.
"I went into the competition with a different mindset and just tried to enjoy the experience.
"I performed well in prelims, making the final. I then walked away from the final with a silver medal. I learned quite a lot about myself during that competition, so the medal holds quite a lot of meaning for me.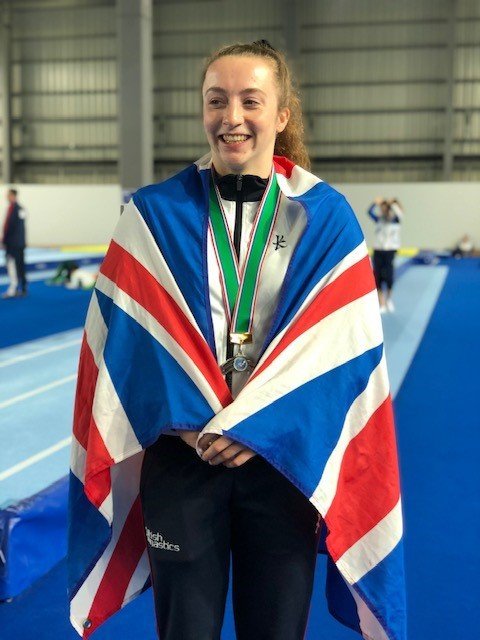 "We were also competing in the Olympic gymnastics arena ahead of the Tokyo 2020 Olympics, which was a very cool experience!
"The highlight from my senior career would have to be my individual medal at Europeans in 2022.
"We were competing under the new code of points which involved a new competition format.
"Having competed successfully in prelims, I placed within the top eight and qualified through to the finals.
"Under the old code each gymnast would compete two runs and the scores would be added together to generate your total score. Under the new code, each gymnast would compete their first run in 'Final 1', and only the top four would make 'Final 2' to compete a second pass.
"I competed in F1 and managed to get through to F2 where I then secured the bronze medal. Both runs were PBs for me and it was a great feeling to have got them both to my feet!
"My personal coach Chris was also out on the competition floor with me, so that made it even better."
Having also had some time to reflect further and look back over her journey through the sport, Megan added: "I feel really proud of what I achieved.
"I've had some amazing experiences, have been lucky enough to visit some incredible places and have met some really good friends along the way.
"Having done gymnastics for 20 years, I think it's fair to say that the sport has helped shape me into the person I am today and I am grateful for everyone who has been involved in the journey.
"The biggest influence has by far been my coach Chris. Under his coaching I went on to compete and medal at competitions I never imagined I'd be able to get to.
"I'd also like to thank everyone who has been involved in my career; from my coaches and teammates, to doctors and physios, Welsh Gymnastics, British Gymnastics, and of course my friends and family.
"Since stopping gymnastics I've been enjoying spending more time with family and friends, having time to travel more and see what else is out there.
"I've also started going to CrossFit classes, any excuse for a handstand! I'll definitely still keep in touch with those in the sport and see what opportunities there might be for me to get involved in the future."
From all at Welsh Gymnastics, Llongyfarchiadau, Meg, on a fantastic gymnastics career and Pob lwc for what comes next.