Gymnastics for All: Sarah, 40, competes again for first time since 2005 and four months after giving birth
Jennifer Nesbitt
Imagine competing in a gymnastics competition again after 18 years away. Imagine also doing so just four months after giving birth.
Well, both were true of 40-year-old Sarah Jenkins – who just recently took part in the Annette Brown Classic GfA women's artistic competition at Sport Wales National Centre.
This year's competition was expanded to enable more diversity across the criteria and giving gymnasts the opportunity to enjoy our sport together, regardless of ability or age.
And this year's youngest and oldest overall age groups winners were 32 years apart, from eight-year-old Esmee Kemp from Planet to Sarah, who trains in the adult class at Cardiff Central Youth Club.
It really was a celebration of Gymnastics for All.
Sarah, who is a Maxillofacial speciality doctor and originally from the West Midlands, has lived in Cardiff since 2005. Prior to that she trained and competed for City of Worcester Gymnastics Club, where she was inspired and guided by coach Ruth Jones, who says Jenkins says instilled a lifelong love of gymnastics in so many people.
She is a nursing mother to baby Freddie, who turned four months the day after the Annette Brown Classic competition over the weekend of April 22nd & 23rd.
"The competition was lovely, a really inclusive, welcoming atmosphere," she said.
"The group of girls in my rotation were so sweet and supportive. I received a message of support from one of the coaches at Swansea afterwards saying that her group had been talking afterwards about the grown-up gymnast.
"It melted my heart and hope it sows the seed that gymnastics is a wonderful sport and form of exercise and joy for all ages."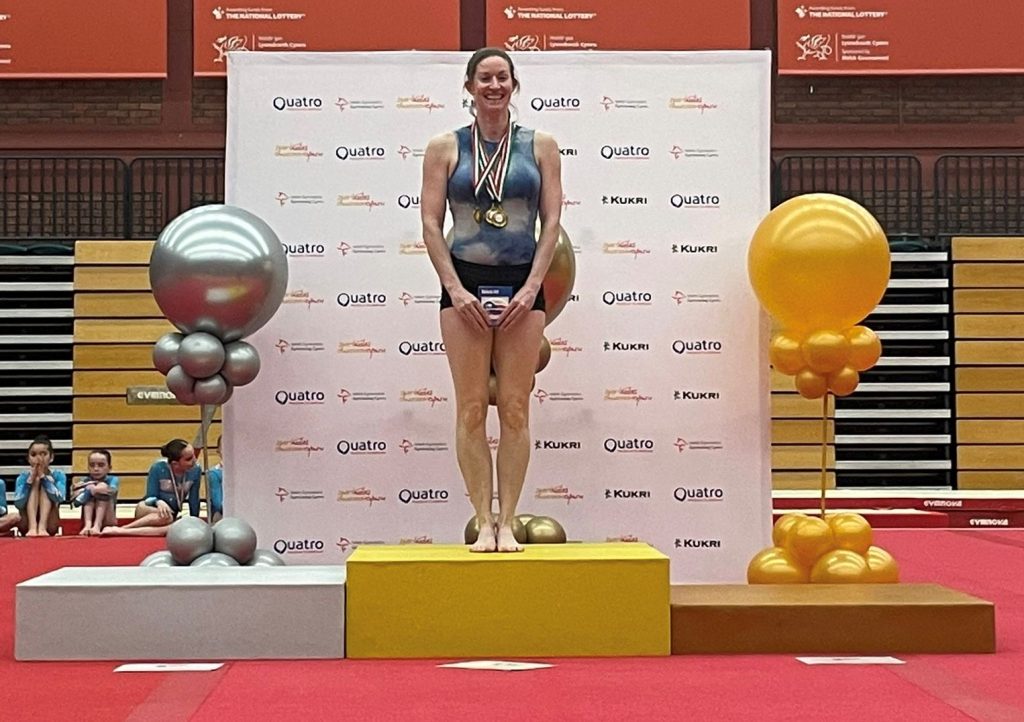 Sarah says she hopes her story inspires others and that she that can help encourage gymnastics at all stages of life.
She continued: "I moved to Cardiff in 2005 for university and have lived here ever since.
"I train at Cardiff Central adult class which has a lovely vibrant group of gymnasts as well as a fab mix of trickers, free runners, circus performers and cheerleaders. During the pandemic I also coached this class but am happily back to just training again now.
"I'm a big believer in training consistently to avoid injury, and because there is no sport like gymnastics, my style has changed over the years – but the beauty of gymnastics is that you can pick the moves that suit you.
"Following strict professional guidance and risk assessment, I trained throughout my pregnancy, and afterwards, obviously modifying everything hugely at each stage to avoid any problems for me and baby.
"I gave birth on Christmas Eve. I'm rather proud to say that since the class stopped over the Christmas break I didn't miss a training session and attended the last class of 2022 and the first class of 2023.
"One of the adult coaches, Seren Medi, suggested entering the adult class of the Annette Brown Classic. I'd not competed since 2005, but thought it would be a fun goal to work towards in my postpartum recovery.
"Getting the time to come to train is tricky but my wonderful husband Ed and I tag team our training and baby caring time so that we can both manage.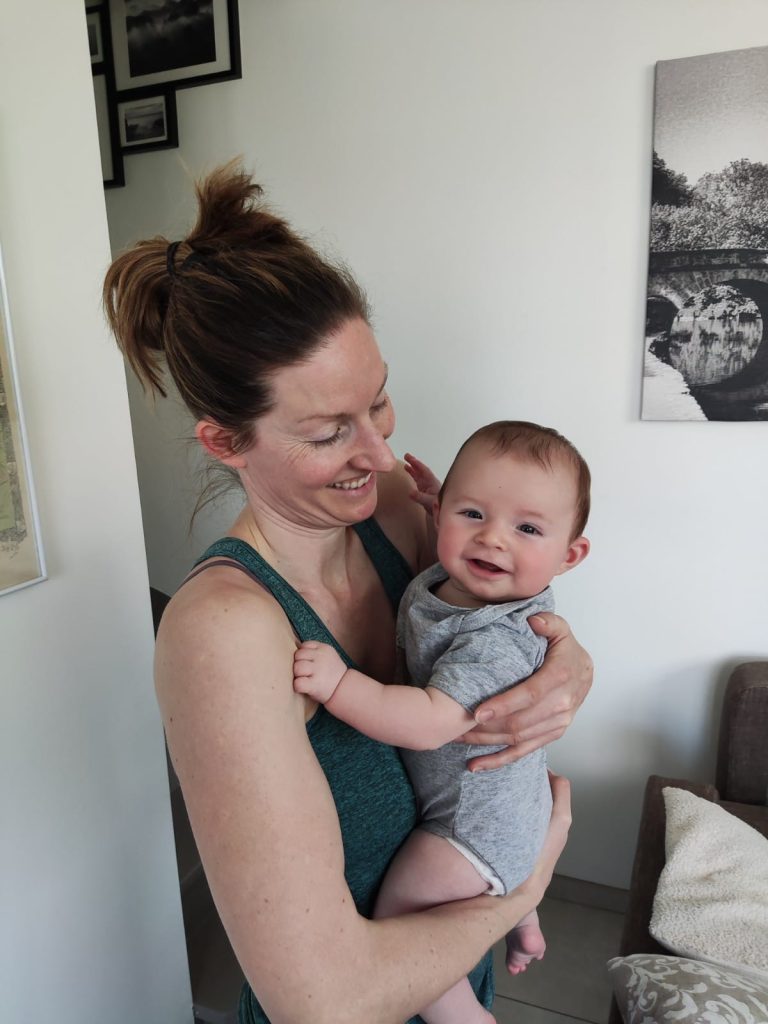 "I am also keen to put the message out there that staying fit and active – in a safe, and modified way – throughout pregnancy and after pregnancy is important and should be promoted."
Overall, the competition was a huge success with nearly 160 gymnasts competing over the weekend.
Added as an extra event to the women's artistic competition pathway just before lockdown and originally called the GfA WAG competition – it was well received, with lots of entries from clubs all over Wales.
Then during lockdown Annette Brown, who worked for Welsh Gymnastics for over 20 years, retired and as a mark of respect and to recognise her commitment to Welsh Gymnastics we changed the name of the competition to the Annette Brown Classic.
For 2023 we have also added depth by making the competitions a league, giving gymnasts around the region more opportunities to compete and earn medals for themselves and points for their clubs.
Also this year we have added an additional level and age group into the competition and bought the higher level closer to the Zinc level in the WAG competition pathway. This gives our members the option to compete with very little commitment in terms of hours in the gym, or to use the competition as a pathway competition to gain confidence before committing to the higher levels within the pathway.
We also had the pleasure of being joined by Annette Brown over the weekend.
Click here for the results.